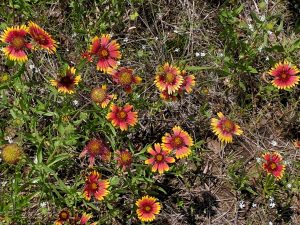 One might guess, after sixty-four years of life, that I would know when I needed to go to the wilderness to experience her healing caress. But older is not necessarily wiser . . .
The turmoil started around two weeks ago, when I noticed that I was getting grumpy and argumentative.  Besides that, events that would not normally have affected me became blown out of proportion and assumed an exaggerated sense of importance. As my fuse became shorter, the pressure inside me ratcheted up, and I felt like a time bomb waiting to explode.  In all fairness, I had recently been working more emergency department shifts than usual, and the difficulty of the patients had been extraordinarily high. Life and death decisions are never easy, and when I came home on such days, I was tired, irritable and depleted.
After waiting far too long, I finally realized I was at my wit's end, and decided I needed to get away to the wilderness. Knowing I had the day free, I packed my trusty backpack, hopped in my 2004 Honda CR-V and headed for the Wichitas, a hiking Mecca in southwest Oklahoma, an area that oozed with the energy of the Native American.  I took the hour and a half drive in silence and focused on the road, while letting my consciousness randomly move in whatever direction needed.  I breathed deep, in and out, saying a silent prayer that I might find peace and healing.
When I drove into the Wichitas, I was delighted to discover that recent rainfalls had sprung the usually dry mountains to life, and they were green, verdant, and full of expectant energy.  After parking, I trekked through the rocky entrance of the Charon's Garden Wilderness, and I began to time my breathing with my measured steps.  A short time later, I added my favorite mantra, given by the Zen Buddhist monk, Thich Nhat Hanh, repeating silently with my in- and out breaths, calming, smiling, present moment, wonderful moment.  Farther down the trail, I stopped my internal chanting and began softly singing "My Sweet Lord," by George Harrison, and later I switched to the old Christian classic, "Nearer, My God to Thee." I felt my consciousness expanding, and as I topped the plateau that led to Crab Eyes, a pair of boulders that rests on top of a nearby mountain, I was blessed by the grandeur of an ocean of beautiful wildflowers.  I caught my breath as blossoms of many varied colors, mostly yellows and reds, smiled at me.  It was as if they were saying: Troubled? Weary?  Stay here and linger with us, and you will find comfort. As I gazed at their magnificence, I was reminded of the words of Jesus, "Consider the lilies of the field, how they grow; they toil not, neither do they spin: yet I say unto you, that even Solomon in all his glory was not arrayed like one of these." Indeed . . .
I walked across the grassy plateau, and, after hiking a bit longer, chose a rocky outcrop hidden away from the trail, a place where I had a panoramic view of Crab Eyes. I fondly looked up at the formation, and, in my way of thinking, they represented the caring, comforting eyes of God, always aware of me and what I was going through, whatever the situation. I felt reassured and closed my eyes. Once again, I focused on my breath, and I quietly listened inside and let the soothing peace of the wilderness flow into me. With time, I roused from my meditation, feeling refreshed and released from a good part of the heaviness that had previously pressed down on me. With Crab Eyes benevolently looking down at me, I opened my backpack and enjoyed a wilderness meal of a mandarin orange, native Oklahoma pecans, chocolate and a granola bar.  Once again, all felt right with the world. I sighed in contentment.
Lunch finished, I stood, shouldered my backpack and trekked back down the path toward the trailhead.  Once again, I experienced the beaming, joyful faces of the delicate, colorful wildflowers, and I wondered why I had waited so long to experience the healing of the wilderness.  As I considered that thought, I realized that a healthy diet, exercise, and a regular meditation practice are simply not enough to sustain me through the trials and tribulations of working in the emergency department.  Every so often, no matter how sound my physical, emotional, mental and spiritual practices, I need the benevolent nurturing of Mother Nature.
Next time, I promise that I will go to the wilderness before the situation gets out of hand.  And maybe, just maybe, my wildflower friends will again be there to greet me.